Posted on Monday, February 13, 2023 11:42 AM
2023 Draft Budget Released
February 13, 2023
The Township of East Garafraxa has released the 2023 Draft Budget which will be discussed at the February 14, 2023, Council meeting. A copy of the draft Budget presentation and documents can be found in the February 14, 2023, Council agenda package at the following link.
It is anticipated that a Special Budget Meeting will be scheduled at the February 14, 2023, Council meeting. Further details will follow.
The Township strives to be accountable to...
Posted on Wednesday, February 01, 2023 01:47 PM
Attachment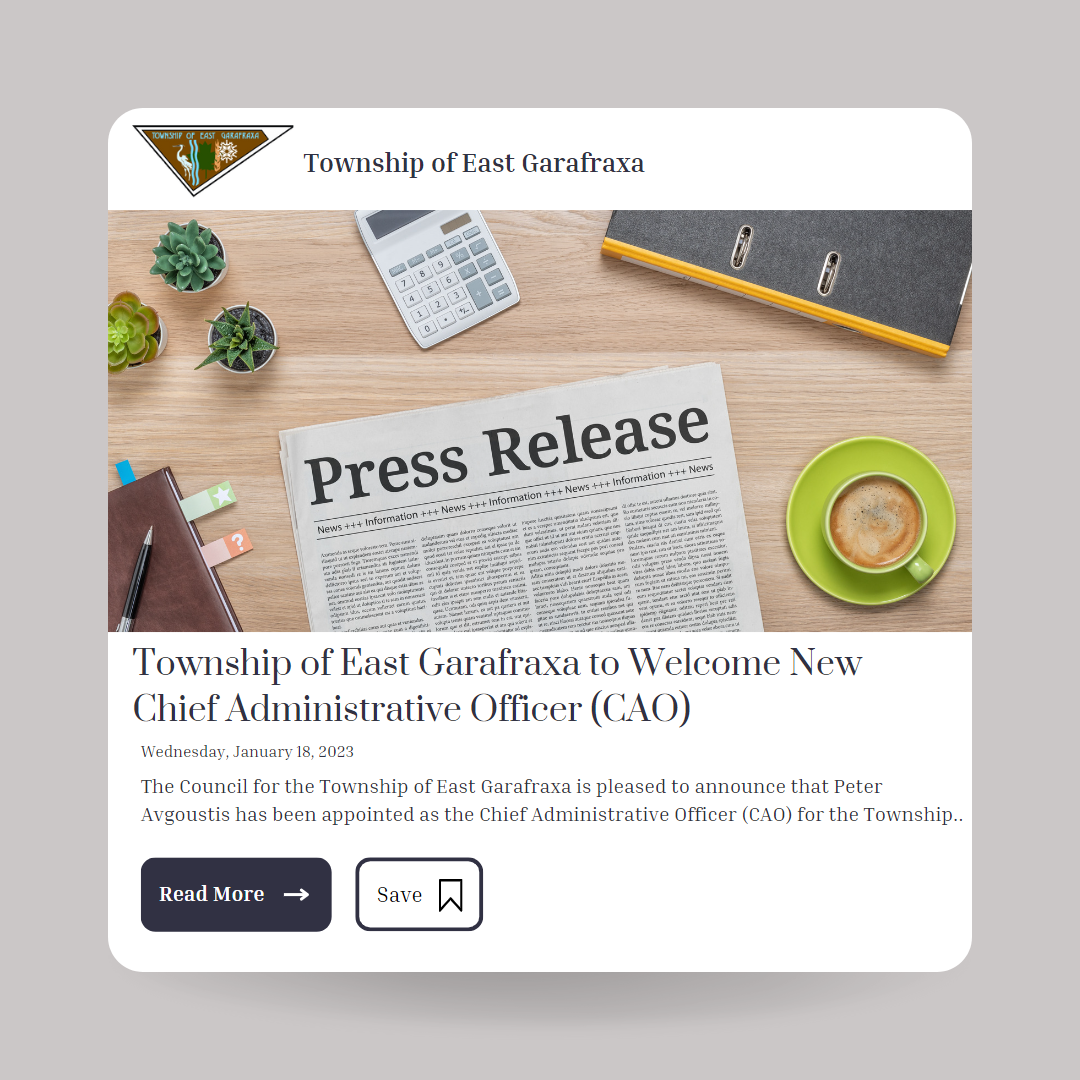 Posted on Wednesday, January 18, 2023 01:49 PM
Township of East Garafraxa to Welcome New Chief Administrative Officer (CAO) News Release
January 18, 2023
The Council for the Township of East Garafraxa is pleased to announce that Peter Avgoustis has been appointed as the Chief Administrative Officer (CAO) for the Township, effective January 23, 2023.
Mr. Avgoustis will be replacing Susan Stone, CAO, who will be retiring this Spring. Ms. Stone has been with the Township since 1982 and has progressed through various roles within the organization...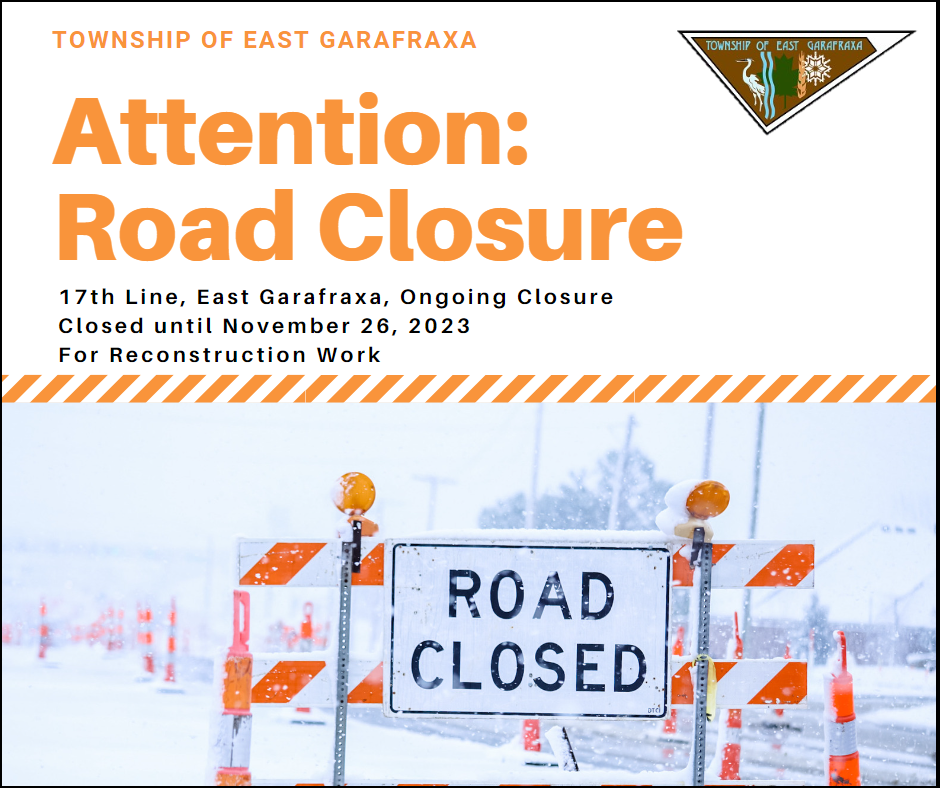 Posted on Tuesday, December 20, 2022 12:09 PM
Road Closure Notice - Ongoing Closure 17th Line, East Garafraxa November 25, 2022 Please be advised the 17th Line in the vicinity of the Greenwood gravel pits will remain closed until November 26, 2023. The purpose of the road closure is to reconstruct the road at a lower elevation, extracting the aggregate that lies below it. The work is being completed by Greenwood Construction under the supervision of the Township. Please contact Dave Knight, Director of Public Works at 226-259-9400 for concerns...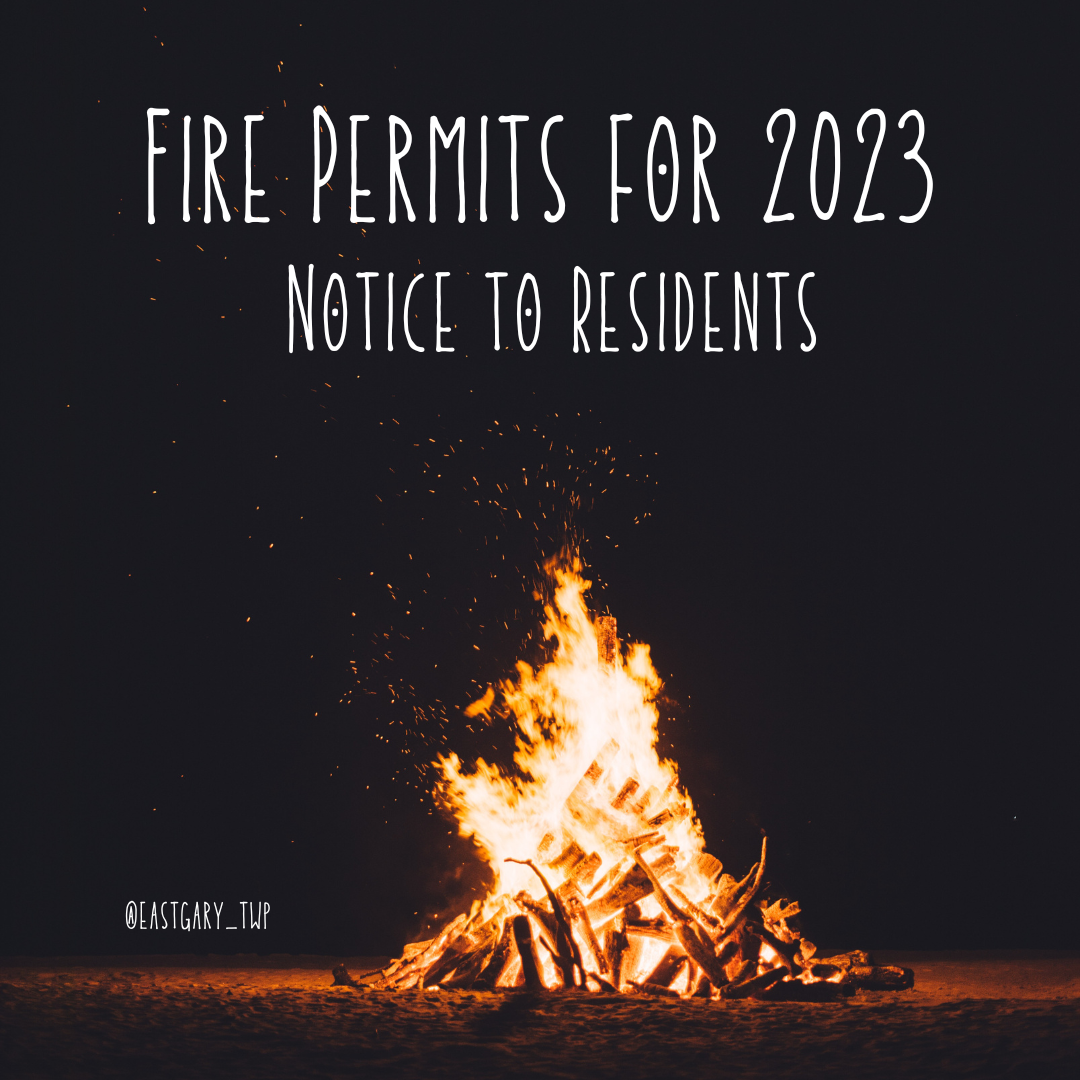 Posted on Monday, December 12, 2022 02:43 PM
Notice to Residents Regarding Fire Permits for 2023 Please note that previous years' (2020, 2021 and 2022) valid fire permits will NOT be extended for the year 2023. Therefore, residents will be required to obtain a new fire permit for the year 2023. Fire permits are available at no charge and can be obtained electronically via email/fax, by regular mail, or in-person at the Township administration office. Fire permits are only valid once reviewed and signed by a Township...