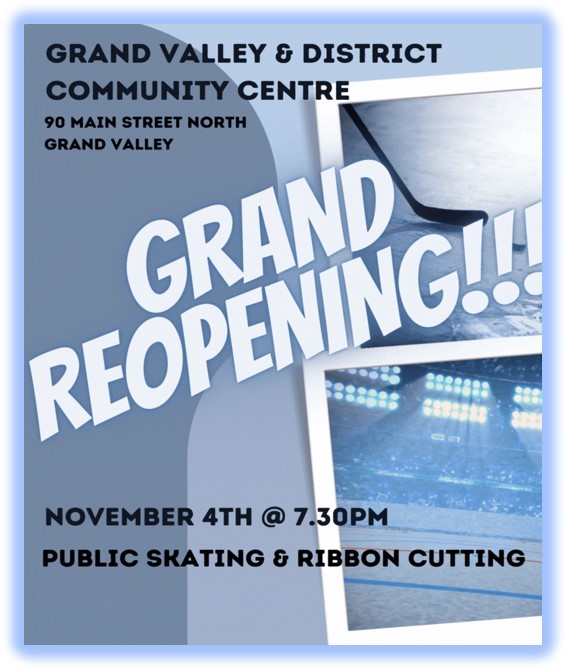 Posted on Friday, October 21, 2022 01:36 PM
Grand Valley & District Community Centre invites you to the Grand Reopening!!
Following the ribbon cutting ceremony, the arena will be open for public skating.
Posted on Saturday, August 06, 2022 11:40 AM
Nominations for Municipal Council shall be accepted at the Municipal Administration office during regular business hours (8:30 a.m. to 4:30 p.m.) from Monday, May 2, 2022, to Thursday, August 18, 2022, and between the hours of 9:00 a.m. and 2:00 p.m. on Friday, August 19, 2022 (Nomination Day). We recommend scheduling an appointment to submit your nomination.
For additional information including the Municipal Council Candidate Package and where to file the School Board Trustee Nomination please visit...
Posted on Wednesday, July 27, 2022 09:56 AM
2022 Final Newsletter
Attachment
Posted on Thursday, June 30, 2022 11:55 AM
Take Notice that a Public Meeting will be held to provide the public with an opportunity to comment and provide input in relation to Towing Services and Vehicle Storage Yard Facility By-Law, on Wednesday, July 13, 2022 at 7:00 P.M. (Electronic Participation).
Attachment