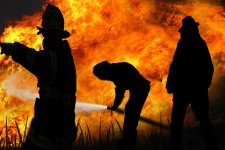 Fire Services
Fire Departments
The Township of East Garafraxa is serviced by three local fire departments, Orangeville, Grand Valley and Erin. Please see links below for contact information.
Fire Permits
Due to the ongoing COVID-19 pandemic, all 2020 fire permits will be extended for 2021. Therefore, fire permits obtained in 2020 and issued by the Township administration office will be valid until December 31, 2021. Please note fire permits are not transferable and are intended for use by the person and property location listed on the permit.
Fire permits are required, at no charge, for all burning within the Township. Fire bans may be imposed at any time due to weather conditions.
Fire permits are available at the Municipal Administrative Office OR by filling out the form below and faxing or emailing it back to the Township.
By signing the Fire Permit you are verifying that you have read and understood the accompanying Fire Permit By-Law 07-2009 and accept full responsibility for the results of your actions in lighting a fire and agree that the requesting and obtaining of a permit does not absolve you of the responsibility for the results of your actions.
Permit is not valid without a Municipal Official Signature & Permit Number. Once your permit has been approved at the office, it will be returned to you using the same manner as it was submitted.
Fire Permit Application *Township Email is listed on the Fire Permit*
**In the event any person proposes to start or set a fire which is larger than the maximum size provided in Section 4 such person shall contact the Fire Chief, or his/her designate, to request a site inspection. The Fire Chief or his/her designate may or may not authorize the fire to be ignited, subject to such conditions as the Fire Chief or his/her designate may impose, issued in writing.**
Fire Prevention and Education
Fire, Police and Ambulance remind residents that it is mandatory to have your six digit Emergency Number displayed appropriately at your property. Subdivisions have been assigned a house number which is to be posted. Do not use your lot number. Houses not posted correctly may result in delays in Emergency vehicles finding your property.
Check out the following links for Fire Prevention and Safety tips:
The Ontario Fire Code states that every home in Ontario must have a working smoke alarm and CO detector on every storey and outside all sleeping areas. It is the owner's responsibility to ensure these are installed and maintained in working order.
A barn fire is a farmer's worst nightmare and brings with it significant emotional and economic impact to a farming community. Prevent fires on your farm by starting with a fire plan - enforce a no smoking policy in any barn or farm buildings. A complete guide on reducing the risk of fire on your farm can be downloaded here from the Ministry of Agriculture, Food and Rural Affairs.
Police
Policing is provided to the Township of East Garafraxa by the Ontario Provincial Police, Dufferin Detachment.
9-1-1 POLICE, FIRE & AMBULANCE remind residents that it is mandatory to have your six digit Emergency Number displayed appropriately at your property. Subdivisions have been assigned a house number which is to be posted. Do not use your lot number. Houses not posted correctly may result in delays in Emergency vehicles finding your property.
For non-emergency Policing situations, please call OPP 1-888-310-1122.
Report a Crime
Our online reporting tool allows you to report minor occurrences such as theft, mischief to property, lost property and driving complaints that occurred in areas policed by the OPP. The OPP has now expanded its Online Reporting capacity with a number of additional occurrence types to better serve members of the public.
Use this online reporting system, regardless of value:
Lost/missing property
Stolen license plates or validation stickers
Theft from a vehicle
Mischief to a vehicle
Mischief (damage to property other than a vehicle, including graffiti)
Theft
Gas Theft
Driving Complaints
If your occurrence does not qualify for online reporting, it cannot be accepted by the officer managing online reporting. These occurrences require contact with a local OPP officer for investigation. Please call the OPP toll-free at 1-888-310-1122 to file a report. Filing a false police report is a criminal offence.
In an emergency ALWAYS CALL 9-1-1
Emergency Response Plan & Preparedness
Emergency Response Plan
Dufferin County and the eight local member municipalities have adopted the Emergency Response Plan to guide their response to emergencies.

For information on Becoming Emergency Ready, Emergency Preparedness Resources and additional emergency information please visit the County of Dufferin Emergency Preparedness webpage.
Be Prepared
Everyone in Ontario is encouraged to be prepared by creating a plan, assembling an emergency survival kit and by staying informed.
No two households are the same. When building your family emergency plan, be mindful of the special needs and considerations of individuals in your own household. By evaluating your unique needs, you can better prepared for any situation.
To learn about different emergencies and how to be prepared visit Emergency preparedness | ontario.ca. To learn more about different emergencies, visit ontario.ca/alert.
Alert Ready
Alert Ready is Canada's emergency alerting system. Alert Ready delivers critical and potentially life-saving alerts to Canadians through television, radio and LTE-connected and compatible wireless devices. The Alert Ready system was developed with many partners, including federal, provincial and territorial emergency management officials, Environment and Climate Change Canada, Pelmorex, the broadcasting industry and wireless service providers. Together, these partners work to ensure Canadians receive alerts immediately and know when to take action to stay safe. To determine your cell phone's compatibility visit Wireless Alert - Alert Ready Emergency Alert System (Pelmorex Corp).
AMBER Alert
The goal of an AMBER Alert is to involve as many community members as possible in the search for an abducted child — each community member becoming the eyes and the ears of law enforcement. In Canada, AMBER Alert programs are provincially operated. AMBER Alerts are sent out through the Alert Ready emergency alert system, reaching Canadians through a number of mediums (e.g., cell phone, television, radio). For more information please visit.
What to do if you receive an AMBER Alert:
Read it carefully.
Keep an eye out for the abducted child, the suspect, or the suspect vehicle.
Call the police immediately if you see or hear anything relevant.